The core work of the International Code Council is facilitating the development of a suite of model building codes, the International Codes, or I-Codes. Currently, the International Code Council publishes 15 model codes, which are updated every three years through an open, consensus-based process. In addition to the model codes, the Code Council develops a number of international standards related to building safety, which are updated continuously through an accredited standards development process.
The governmental consensus process that is used to develop and update the I-Codes follows a three-stage process that produces model codes that reflect the most recent developments in building science and technology, consider the use of new construction materials and techniques, and incorporate lessons learned from building failures and disasters impacting the built environment around the world. Anyone may observe and participate in the process of updating the codes. There is no cost of admission to attend the code hearings in person, and the hearings are also streamed online for real-time or recorded viewing.
Learn more about the code development process.
The family of I-Codes set minimum requirements for building design, construction and operation to protect public health, safety and the natural resources that sustain human life. The I-Codes are the most widely-used model building codes in the world, adopted by all 50 U.S. states and numerous U.S. federal government agencies, and used as the basis for or incorporated by reference in the codes of dozens of jurisdictions around the world. The I-Codes reference thousands of prescriptive standards, facilitating the application of strong, consensus-based standards.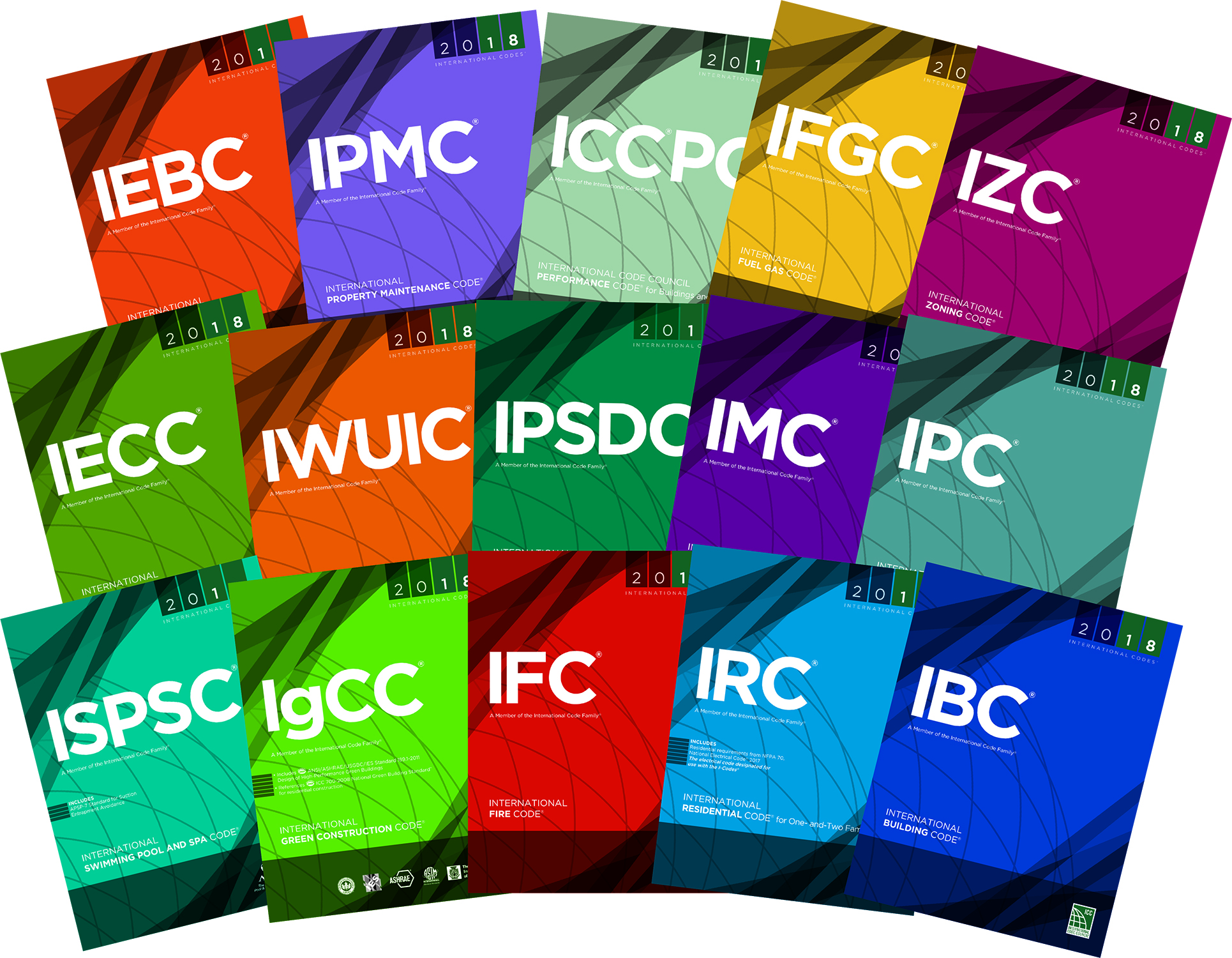 The International Code Council publishes the following model codes:
International Building Code (IBC)
International Energy Conservation Code (IECC)
International Existing Building Code (IEBC)
International Fire Code (IFC)
International Fuel Gas Code (IFGC)
International Green Construction Code (IgCC)
International Mechanical Code (IMC)
ICC Performance Code (ICCPC)
International Plumbing Code (IPC)
International Private Sewage Disposal Code (IPSDC)
International Property Maintenance Code (IPMC)
International Residential Code (IRC)
International Swimming Pool and Spa Code (ISPSC)
International Wildland Urban Interface Code (IWUIC)
International Zoning Code (IZC)
The International Code Council is an ANSI accredited Standards Developing Organization that develops the following standards:
Learn more about the International Code Council's standards development process.
Jurisdictions around the world often choose to adopt, reference and implement the I-Codes as a model code rather than independently developing a building code. By relying on the I-Codes and the development process that supports them, jurisdictions can save substantial money and time while ensuring that their buildings are safe and resilient. Many jurisdictions, both in the U.S. and internationally, elect to amend or modify the I-Codes prior to adoption and implementation to incorporate differing standards, requirements, circumstances or regulations.
The I-Codes reference over 1,500 standards that are developed by international standards developing organizations (SDOs). Some of the key SDOs include:
American Concrete Institute
American Institute of Steel Construction
American Iron and Steel Institute
American Wood Council
ASHRAE
ASTM International
International Code Council
The Masonry Society
National Fire Protection Association